2022 KCJH Junior Hockey Handbook.docx
NCKJH 2022 Intermediate Draw.pdf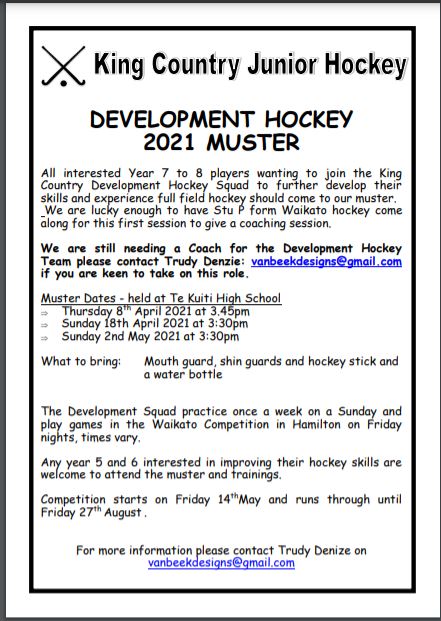 NKCJ Hockey Muster Dates.pdf – NEW MUSTER DATES ADDED!!
HOCKEY 2021
COMMITTEE
President & Treasurer Jo Alcock altonenry01@gmail.com
Secretary Alison Ferris kcjhsecretary2019@gmail.com
Draws & Scores Wendy Verry kcjhdrawsandscores@gmail.com
Members Trudy Denize vanbeekdesigns@gmail.com
Sarah McElroy sarahmc@tekuiti.school.nz
Sam Ussher samanthausher8@gmail.com
Bex Stubbs bexbee03@gmail.com
Ben Stubbs bexbee03@gmail.com
Nicola Alcock
Kris Neal
Shaina Downey
Misy Tapu
COMMUNICATION
Our main method of communication is our Facebook page
https://www.facebook.com/King-Country-Junior-Hockey-Club-1308218855900095/
This is where you will find the draw, points table, any changes to venue, cancellation and announcements of up and coming events.
Queries regarding the local competition – Wendy Verry kcjhdrawsandscores@gmail.com
Any other queries – Nicola Alcock kcjhsecretary2019@gmail.com
TEAM REGISTRATIONS
Registration forms are to be completed for each team and emailed to me by Friday 9th April, blank form is attached
If you do not have enough children in your school to make a team please contact me and I will liaise with other schools to make teams, please do this as soon as possible
FEES
Fun Sticks $20/player
Junior A and Junior B $20/player
Intermediate $30/player
Invoices will be sent out to schools when registrations are finalised
FORMAT
The season will start the week of 3rd May. The competition generally runs for the length of Term 2, but will depend on the number of teams entered. The final format will be confirmed once all teams are registered.
Year 0-2 Funsticks Thursday 3:40pm CP Skills & Drills
Year 3-4 Junior B Thursday 3:40pm TKHS, PPP 6 players per team
Year 5-6 Junior A Thursday 3:40 or 4:20pm TKHS, PPP, SJ 6 players per team.
Year 7-8 Intermediate Tuesday/Wednesday 3:40 or 4:20pm TKHS 7 players per team
Te Kuiti High School (TKHS), Piopio Primary (PPP), Centennial Park (CP), St Joseph's (SJ)
SCORES
Scores are to be emailed to kcjhdrawsandscores@gmail.com or Text to 021 2121 453 as soon as possible after the game. Please ensure you send through both team names, and goals scored by each team.
e.g St Jos White 4 – Aria Blue 4
UMPIRES
Each team is to supply one umpire
There will be an umpiring session towards the end of Term 1. Date to be confirmed
HANDBOOK
Please find attached the updated Handbook
TURF
We are very privileged to be able to use turfs at Te Kuiti High School, Piopio Primary, Centennial Park and St Joseph's schools. We ask you to speak to your players and supporters about respecting the property of these schools and looking after the turf.
Some basic rules:
No food or chewing gum on turf
No spiked shoes
No climbing on the fences
No hanging sticks in the fence
No rubbish to be left behind
No smoking
At St Joseph's can spectators please stay off the turf, this is due to the small area outside the field markings. Parking is available on Seddon and Queen Streets, please do not park in the school grounds.
WAIKATO HOCKEY SESSIONS
We will try and get Waikato Hockey to come and do some training sessions with players between now and the end of Term 1. Dates will be sent out to schools.
Thanks
Wendy Verry