FOOTBALL 2022
MYCOMET
Here are the links and help pages for players to register via MyComet:
To help parents with registering their children, please click here for a registration help guide. I've also included the MyCOMET direct links to the registration items below.
REGISTRATION LINKS FOR THE 2021 NKCJF FOOTBALL SEASON
If parents can't remember their child's MyCOMET password or username they can request a reset email by selecting the Forgot Password link on the MyCOMET login page (enter the player's username, or the email address used when creating the player's MyCOMET profile). If this doesn't arrive in the inbox within a minute, they should check the junk/spam folder. If they don't receive the email, or for any other registration enquires parents should click here to submit a support ticket.
Every player needs their own MyCOMET profile to register. You can't use the same profile to register multiple players as you'll just be registering the same player over and over and overwriting their details.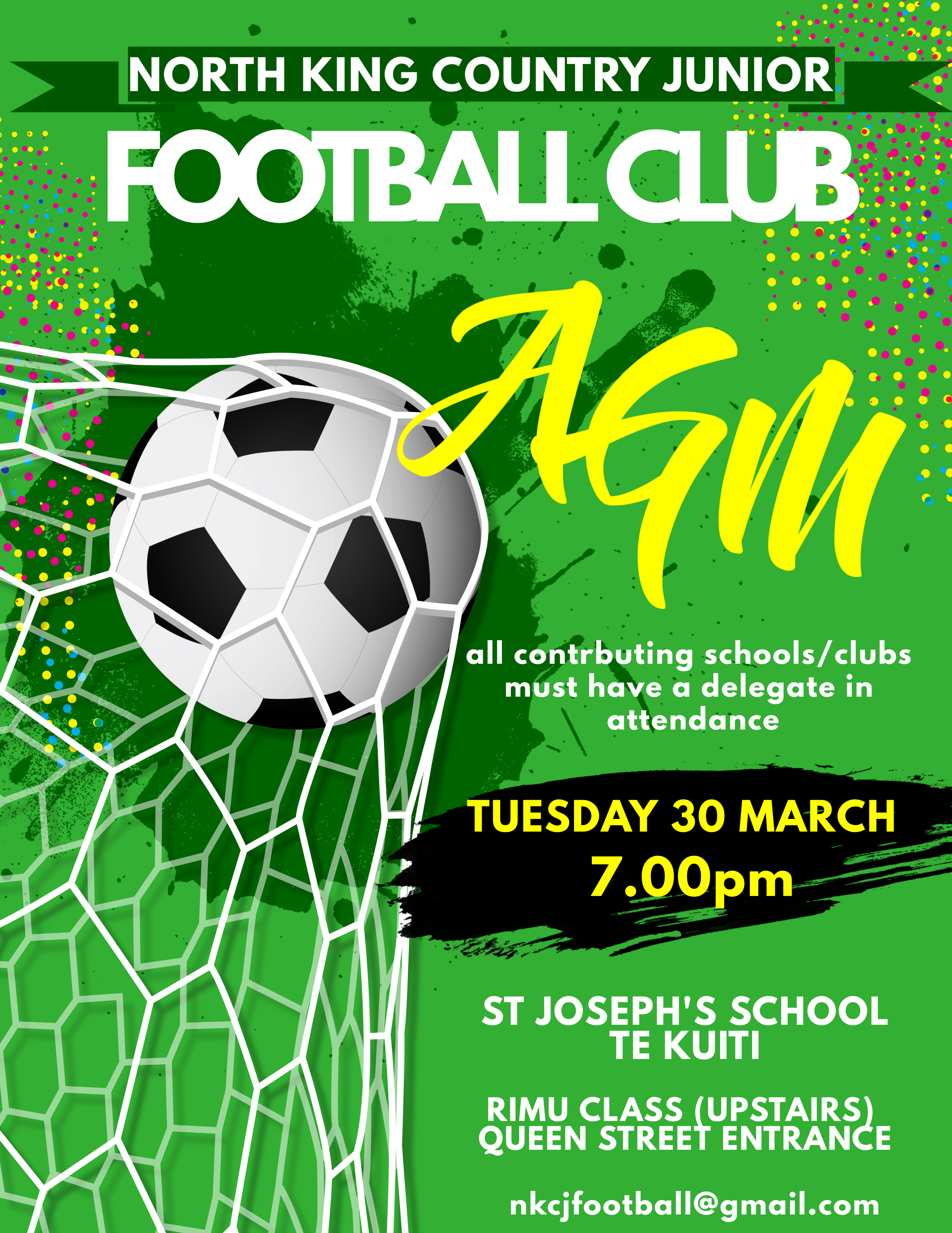 START UP INFORMATION:
The AGM will be held on Tuesday 30 March at St Joseph's School, Te Kuiti, 7.00pm. (See flyer above)
Every contributing school must have a delegate in attendance.
We are looking for new committee members this year including: Chairperson, Secretary and Treasurer.
As the AGM is closer to the holidays due to current committee members' prior commitments, we ask that you come to the meeting with your school teams relatively organised so the draw can be done promptly.
KEY INFORMATION
Season Dates
Opening Day Tournament To be decided
Competition games begin Friday 7 May
Closing Tournament To be decided
All games will be played at Centennial Park, Te Kuiti on Friday's.
The committee and school delegates made the decision at the end of the 2020 season to continue with Friday's for the 2021 year.
We understand that this decision does not suit everyone, however as a group of volunteers we decided
due an increase in numbers of children playing football in 2020 we would continue with this in 2021.
Games will begin at 3.30pm (some specifics of timings will be decided at the meeting).
School/Team Registrations
Under 10 grade 7 vs 7
Under 13 grade 9 vs 9
Please note we do not put children into teams – this needs to be arranged between schools.
Age groups are as follows:
Red Pod under 6 on 1 January 2021 (i.e born 2015 or later)
Green Pod under 8 on 1 January 2021 born 2013 or 2014
Under 10 Grade under 10 on 1 January 2021 born 2011 or 2012
Under 13 Grade under 13 on 1 January 2020 born 2010, 2009, 2008
We are flexible with these dates with your discretion of ability and numbers in teams.
Kind regards,
Emma Telfer
| | |
| --- | --- |
| Contact information: nkcjf@gmail.com | |